Meet the Leadership Team
The Leadership Team at MY International School works together to set the vision and uphold the principles and core values of the school.
Head of School,
Mrs. Khanum Thampi
Mrs. Khanum is the founder and the Head of School of Magic Years and has been responsible for ensuring its strong commitment to excellence for over 20 years. She holds a Masters Degree in Education from Pacific Oaks University in California. She has attended many workshops on the early childhood education both in the US and abroad. Her interest in education led her to study the Reggio Emilia approach whose philosophy she has embedded in Magic Years. She enjoys being with children and observing children at play. She is never tired of learning from them and about them. This naturally has led her to become a passionate advocate of children's rights, including their right to be respected and to trust in their potential and abilities. This passion for children's rights has sustained her interest and enthusiasm for the school leadership over the years at Magic Years.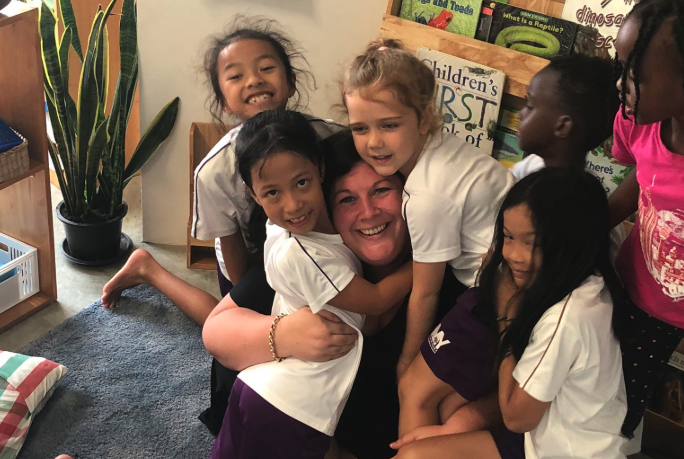 Assistant Principal +
PYP Coordinator,
Ms. Melanie Taylor
Ms. Mel is MY International School's Assistant Principal and PYP Coordinator. Originally from Melbourne, Australia, Ms. Mel has been working in education for nineteen years and internationally since 2004. After completing a double bachelors in psychology and primary education she spent five years teaching in Australia before relocating to Frankfurt, Germany. After nine years in Germany, Ms. Mel moved to Hanoi Vietnam to teach at the United Nations International School where she taught for six years. A life-long learner, Ms. Mel is an IB educator and loves the opportunity to work with candidate PYP schools and PYP teachers, as their consultant and workshop leader.
Ms. Mel is passionate about increasing the role that students take in their education and has spent the last 4 years researching and inquiring into increased student-directed learning and agency. The student-centered focus of MYIS is something she connects with and she enjoys working in a school that values the importance of a collaborative approach to the learning journey.
Ms. Tahireh graduated from the University of Melbourne with a degree in Teaching and Music Performance. Ms. Tahireh is currently pursuing a graduate degree in Instructional Coaching in the Classroom from Clemson University. Ms. Tahireh is passionate about balanced literacy instruction and making mathematics accessible to young learners. She strives to build a caring and creative community in her classroom while promoting 21st century skills and attitudes. She also enjoys collaborating with other teachers and truly coming to school to be a learner herself.
Pedagogcial Consultant
Ms. Cassandra Blyth-Sullivan
Ms. Cassandra joined Magic Years in 2007. She brings with her 16 years of experience in the field of education and 12 years of experience teaching the IB Primary Years Programme. Ms. Cassandra has a Bachelor's degree in Early Childhood Teaching and a Master's degree in Education from the University of Western Sydney.
Ms. Cassandra is the PYP coordinator of Magic Years and oversees training and professional development workshops reflecting progressive perspectives on teaching and learning. She is an authorized IB PYP workshop Leader, specializing in the Early Years and conducting workshops throughout the Asia-Pacific Region.
International School Manager,
Ms. Orasa Kanjanachoosak
Ms. Orasa joined Magic Years in 2006 as the School Manager. She completed her MBA from Sasin Graduate Institute of Business Administration at Chulalongkorn University. She brings with her finance and accounting expertise to Magic Years.
She has worked to improve the operations of the school to ensure that its systems are as smooth and efficient as possible. She also has a great passion for children and can often be seen at Magic Years interacting with the children in the classrooms.